Our Online Environment
Canvas LMS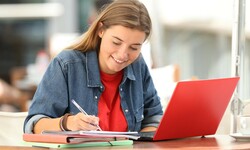 Canvas
Our Canvas LMS (Learning Management System) is one of the fastest growing platforms in the world, largely because of its ease of use, media rich environment, and adaptability.
Students report a high level of satisfaction with our courses, which are developed and taught by highly capable, caring, and supportive teachers.  Our teachers, through Canvas or in person, video conference etc monitor, support, teach and engage students to ensure their success.
Parents
A key component to our platform is parent presence.  Parents can access Observer status to see course material, student work as if they had stepped right into the class.  Our experience is that a successful student has both teachers and parents helping, guiding, and monitoring.  You can learn right alongside your students if you like
Course Structure
Our courses are full year, with a 32-module structure.  Students can work through each week at their own pace, though they are expected to work in the same week as the rest of the class.  This is their asynchronous learning, punctuated by "live" synchronous learning of two types: one to one support with the teacher and weekly or bi-weekly seminars.
An Overview and a Sampler
Please Note: The lessons below come from one of our regular courses which, while faith integrated and based on a Great Books philosophy, are not necessarily as rigorous or structured as the Chesterton Academy program. 
Sample Lectures